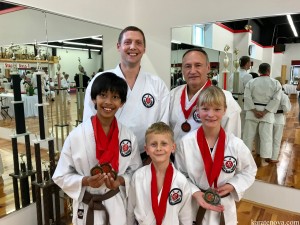 On Saturday, September 29, 2018 five students from our school in Ashburn traveled to upstate New York to compete in the 52nd Annual Wa-shin Ryu Karate National Invitational Tournament. There were 150 people in attendance, and our competition team returned home with four gold, two silver, and six bronze medals, with every competitor taking away at least one medal!
The Annual Wa-shin Ryu Karate National Invitational began in 1966. It is one of the oldest and longest-running traditional Japanese martial arts competitions in the United States. Historically, this tournament has drawn great legendary martial arts competitors, such as Joe Lewis, Jeff Smith, and Everett "Monster Man" Eddy.
Congratulations to our competitors! Everyone trained very hard, and we are extremely proud of their performance and success.