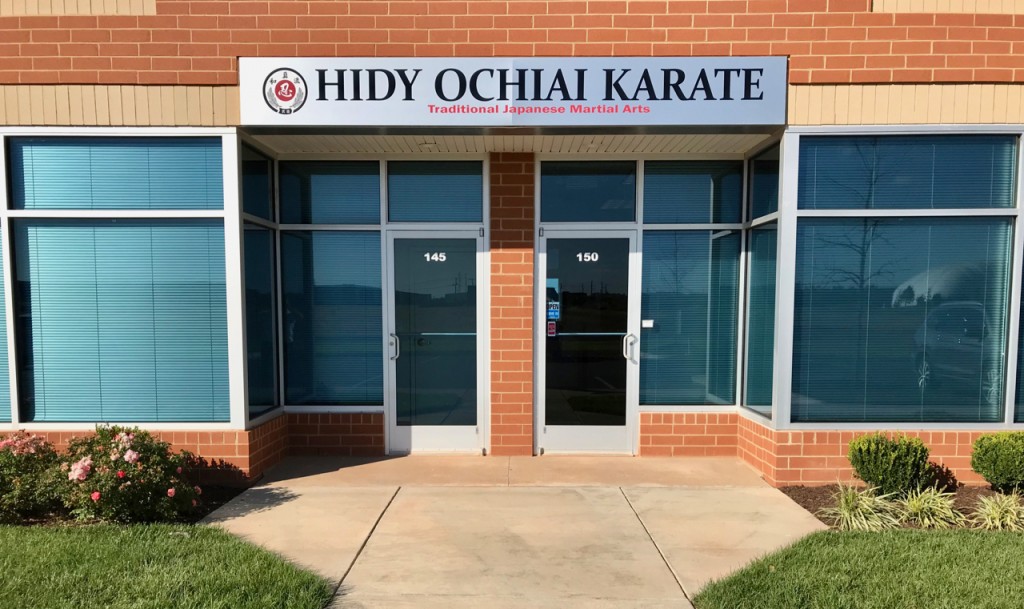 Grand Opening Celebration Weekend
for our New Martial Arts School in Ashburn, VA!
Ribbon Cutting on Friday, October 26th at 3:30pm

 Open House on Saturday, October 27th from 10am-12:15 pm
 
We are excited to announce the Grand Opening for our new traditional Japanese martial arts school in Ashburn, Virginia! It is located in the recently-built Ashburn Crossing development just south of One Loudoun by Redskins Park. Our new, state-of-the-art school is 5,500 square feet and is our flagship location for the Mid-Atlantic region. It is also the 2nd largest training facility solely dedicated to martial arts instruction in all of the Hidy Ochiai Karate schools across the nation.
Our new school includes beautifully designed locker rooms with showers, a vast viewing area, and a 3,000 square foot traditional wood training floor, which was made with a special cutting-edge gym floor construction method, creating a surface that is ideal for martial arts classes and instruction.
The Grand Opening will be held over two days, starting with a Ribbon Cutting on Friday, October 26 at 3:30pm. Tony Howard, President of the Loudoun Chamber of Commerce, along with officials from the Loudoun Economic Development and local government official­­­­­­­­s will be in attendance. At 4pm there will be a book signing with Master Hidy Ochiai for his new book, "Art & Theory of Self-Defense." Then at 5pm there will be a free All Ranks Karate Class for new students with Master Ochiai. On Saturday, October 27th, we will have an Open House for the public from 10am to 12:15pm. The schedule for Saturday is below:
10am – Doors open for Open House
10:30-10:50   Video presentation of Master Ochiai's Induction to the Hall of Fame
10:50– 11:00 – Master Ochiai opening remarks
11:00 – 11:30 – Student Martial Arts Demonstration
11:30 – 12:00 – Books available for signing/Raffle and Gifts
Sensei William Max Winkler, who is our Chief Instructor, says "I am proud to bring an authentic Japanese Martial Art to Northern Virginia and honored to work and study under Master Ochiai. Our Grand Opening Celebration is a great opportunity to show off our gorgeous new dojo and what we offer through our classes for both children and adults. We welcome all members of the community to come and celebrate with us."
World-famous Master Ochiai will be there both days and his newest book, " Art & Theory of Self-Defense," will be available for sale and signing on Friday and Saturday. Master Ochiai's mastery of the martial arts has been featured on ABC's Wide World of Sports, ESPN and frequently on the covers of top industry magazines, including Black Belt Magazine, Martial Arts Illustrated, and Martial Arts Professional.
Master Hidy Ochiai brought our style of karate, Wa-shin Ryu Karate-do, to this country in 1966. It is based on the principles of Budo (the martial way) – respect, honor, and self-development.  For more than 50 years Master Ochiai has taken a holistic approach to martial arts practice that guides students to realize their potential.  Hidy Ochiai's highly acclaimed training/teaching model equally emphasizes the development of the mind and the body in a self-paced training program. In 1996, the New York State Education Department validated Ochiai's Educational Karate Program (EKP) as an effective in-school curriculum to teach character education, safety awareness and violence prevention strategies. EKP directly addresses problems of bullying and encourages cooperative and respectful learning environments (www.hidyochiai.org/educational-karate-program). Here is a link to Master Ochiai's unmatched, jaw-dropping sword demonstration: http://www.youtube.com/watch?v=G3EZcKsiYRU. It has garnered over a million views on YouTube.
We are extremely excited for this momentous milestone and look forward to celebrating with the community!